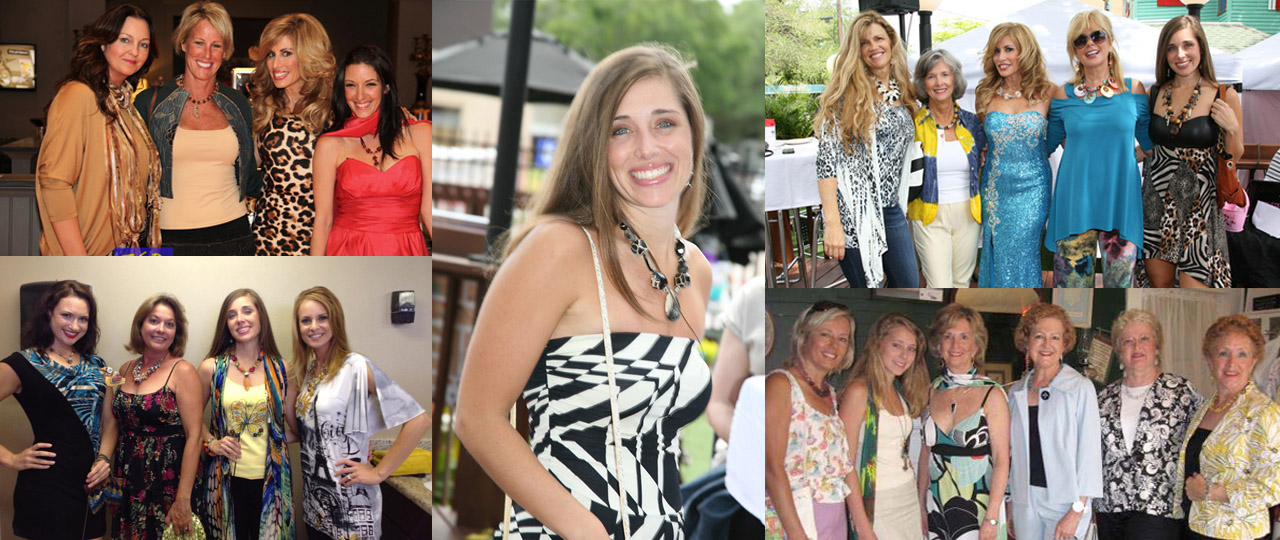 Are you looking for an exciting new feature for your organization's luncheons, fundraising events or meetings? Consider a Wearable Art Fashion Show/Trunk Show presented by Hearts Desire. Our fashion shows create memorable events that help promote your organization. Ladies experience a fun, lively, entertaining show and leave happy and fashionably inspired.
Hearts Desire's owner and jewelry designer, Vicki Rollo, a graduate of Ringling College of Art and Design, brings a fresh, artistic look to the catwalk. She works with your organization's members to create dynamic looks that complement their figures and encourage guests to explore new artistic directions in their wardrobes.
A pop-up boutique for shopping is also available to supplement event ticket sales. The organization earns a percentage of sales from the boutique.
Vicki handles all the details, including show scripting and presentation. With her graphic design capabilities, she can also assist in the design of marketing materials for the event.
Hearts Desire also offers Accessory Fashion Shows in which Vicki demonstrates the ease of creating an eye-catching wardrobe by adding a few exciting accessories. Models wear a collection of contemporary, affordable, wearable art jackets, drapes, accessories, and jewelry by local and national designers. The models are not inconvenienced with off-site fittings.
Some of the organizations that have chosen a Wearable Art Fashion Show with Hearts Desire:
Sophisticated Strut at the Ritz – Carlton Beach Club benefiting UCP
Sophisticated Strut at Founder's Country Club benefiting Center for Building Hope
Rosedale Country Club – 3 years
Sarasota Newcomers Encore Group
Manatee Players
Annual Arts Brunch & Fashion Show, Village of the Arts – 8 yrs benefiting Artist Guild of Manatee
CareNet Manatee
Jazzy Ladies – 3 yrs benefiting Art Center Manatee
Sarasota Christian Women's Connection (Accessory Fashion Show)
Perico Island Member's Club – 3 yrs
American Association of University Women (AAUW)
Sarasota Yacht Club
Renaissance Country Club in Sun City Center (Accessory Fashion Show)
Tara Country Club – 2 yrs
The Oaks Club (Accessory Fashion Show)
Waters Edge – 3 yrs
Oakwood Manor
Bradenton Yacht Club benefiting Manatee Children's Services